School Tours
Perfect for all age groups, Primary and Secondary
As seen in Primary Times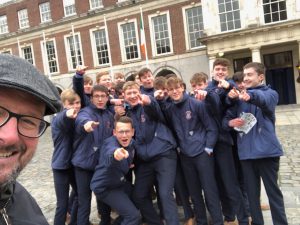 This tour is perfect for all age groups, Primary and Secondary. Typically we will meet your class at Trinity College where there will be a short introduction from the Great Hunger up to Easter Monday morning. We then walk towards the GPO with lots of little stops on the way, eg O'Connell Statue (lots of bullet holes) Larkin Statue (discussion on the Lockout) culminating in a day by day explanation of the events inside the GPO, HQ in 1916. We then trace the evacuation route towards Moore Street (show the class 16 Moore Street) and also visit where O'Rahilly died and following that we will examine the surrender site and discuss the aftermath. Throughout the tour students are actively encouraged to ask as many questions as they want, it is a very interactive tour! Please allow about an hour and a half for the tour. There are many alternative routes available – please ask.
To enquire about a booking email lorcan@1916rising.com or call 00 353 868 583 847 (00 353 868 583 847 from within Ireland).
Each tour is limited to one class at a time. If you wish to bring two classes we can supply an additional guide.
Testimonials from teachers who have been on the 1916 Rebellion Walking Tour
The 1916 Tour with Lorcan was a great experience for my students. The tour also linked perfectly into the curriculum and help enhanced their learning. Very highly recommended.
Colm O'Domhnaill
Gaelscoil an Bhradáin Feasa Co na Mí
---
The 1916 walking tour is the only tour you should consider. With the professional and very entertaining guides, they bring to life the 1916 Rising. All the stories and anecdotal information lead to a very informative and thoroughly enjoyable tour that will have your class taking about it for months. Worth every penny.
Niall Callaghan
John Scottus School, Donnybrook
---
We have brought our Irish history students on the 1916 Walking Tour for over 12 years running. Why? Lorcan Collins enthuses, excites and explains so well. He has helped exam success, and left students with a deep understanding and affection for Irish history, plus a longing to return one day to Dublin and the vivid re-created scenes of 1916.
Dr M Craig
Head of History
St Ivo School, Cambridgeshire, England
---
I book a couple of 1916 Tours every year and Lorcan never fails to entertain. This tour is a must for all Irish students and has tremendous educational value.
John Murphy
St Brendan's College, Bray
---
Lorcan has always been my port of call for a really entertaining and enjoyable walking tour of 1916 Dublin. Each time the tour is different with interesting facts and anecdotes about 1916. I highly recommend this tour to anyone, young or old, who has an interest in Irish History and a comfortable pair of shoes.
Kim Lynch
Bush Post Primary School, Dundalk
---
This is a brilliant tour. I have brought my 6th class on this tour for the past 3 years. It was very educational and the students loved the whole experience. Lorcan is a gifted storyteller with a great sense of humour. I would highly recommend it for schools.
Paul Ennis
St Laurence's National School, Co Kildare
---
To enquire about a booking email lorcan@1916rising.com or call 00 353 868 583 847 (00 353 868 583 847 from within Ireland).