Irish Citizen Army
The Irish Citizen Army were a body of volunteers, equipped and drilled in defiance of the British administration and consisting of Socialist workers.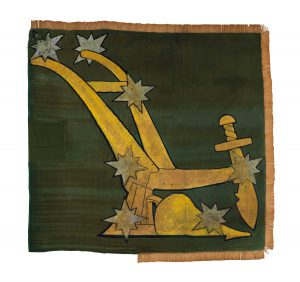 The Lockout of 1913, fought on the issue of the recognition of Big Jim Larkins' radical union, the ITGWU, began when William Martin Murphy, a prominent industrialist, locked out a number of trade unionists on 19th August 1913.
The conflict escalated until it involved 400 employers and 25,000 workers. Almost all of Dublin came to an economic standstill, but after six months, hungry and embittered, the workforce returned defeated.
At a mass meeting, following Police attacks on assemblies of workers during the dispute, Jim Larkin had called for volunteers to form a Citizen Army to defend meetings and marches. He believed that the working men had as much right to arm and protect themselves as any other group had.
The Citizen Army suffered from the defeat of the strike, but survived to eventually become James Connolly's personal army of highly trained socialists.
The Citizen Army, who trained and based themselves around the union building, Liberty Hall, were one of the first military forces in Ireland to accept women as full members.
The most prominent recruit was the Countess Markievicz who became the Honorary Treasurer and one of the better shots in the Army.
Throughout 1914 and 1915 the ICA remained small, with just over 200 members. By 1916 although still a small force, James Connolly had decided that he should lead an uprising in Ireland with the Citizen Army. Connolly's newspaper articles attracted the attention of Pearse who urged him not to take premature action.
A special meeting was arranged in January 1916 between the Military Council of the IRB and the leader of the ICA. Agreement was reached for a united rising of the Irish Volunteers and the Irish Citizen Army for Easter of that year.